Leftwing Israeli Professor Ignites an Uproar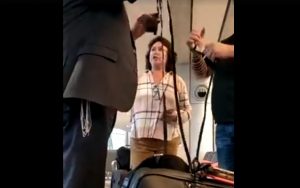 by Rafael Medoff
A leftwing Israeli professor who calls herself a "specialist in multicultural theories" apparently has mixed feelings about Jewish culture, to judge by the disturbing videotape of her heckling and mocking a Chabad chasid for helping another Jew put on tefillin.
The incident took place last week at Israel's Ben Gurion Airport, where a handful of Chabad chasidim have been helping passersby put on tefillin for decades, usually without incident. Their activity is authorized by the airport authorities.
An Israeli traveler who identified himself as Gad Kaufman later posted a videotape of the incident on YouTube. In the brief video—made with a cellphone by a friend of Kaufman's—Rabbi Meir Herzl can be seen assisting Kaufman with the tefillin and helping him recite the brachos in a quiet tone.
Suddenly, a middle-aged Israeli woman approaches and begins heckling them in an animated voice. She berates them for "standing near me" and repeatedly demands that they leave her vicinity. "The public does not want to be part of what you are doing!" she yells. "Get out of here!" Kaufman quietly asks her to "stop bothering us," to which she loudly responds, "You are the ones who are bothering me!"
Her voice grows louder, and then she demonstratively puts her hands on her hips and begins mocking them with wild laughter. The voice of another woman, presumably a traveler witnessing the incident, can be heard saying, "Even the worst anti-Semites wouldn't do that." Undeterred, the heckler laughs at them in a progressively louder and higher tone, and then resumes angrily yelling at them as the brief video concludes.
In his posting, Kaufman wrote: "An amazing incident took place this morning at the airport, when I was politely asked by a Chabad man if I wanted to put on tefillin. I said yes, and then a woman with a crazy look jumped up and started cursing, harassing and disturbing!" He wondered aloud if the heckler would have behaved in such a fashion "if I were a Muslim or a Christian."
What Kaufman did not know at the time was that the harasser was Pnina Peri, a prominent leftwing Israeli intellectual whose professional activity focuses on urging respect for all (well, almost all) religions.
Dr. Peri, formerly a lecturer at the Sapir Academic College and the Levinsky Teachers Training College, describes herself as a specialist in multicultural studies, including "cross culture communications." She is the author of a book called Pluralism and Congruence Among Cultural Divisions. Peri is currently a visiting assistant professor at the University of Maryland's Gildenhorn Institute for Israel Studies.
Coincidentally, her husband, Yoram Peri, is director of the Gildenhorn Institute, which employs her. Yoram is the former president of the New Israel Fund, a U.S.-based charity that sponsors left-of-center political and social action groups in Israel.
Mrs. Peri has also taught at American University, in Washington, D.C. On a website where students rate their professors, a student of Peri's at American U. wrote: "She's a really nice lady, but she finds it hard to comprehend that not all things can be categorized as either black or white—this caused a lot of tension between her and some students."
Responding to widespread criticism of her behavior at the airport, Peri is now claiming that she was the real victim in the incident. According to a statement distributed to the Israeli media, Peri said she was minding her own business when Kaufman and Rabbi Herzl suddenly "started laying tefillin right on top of me." The rabbi, however, has pointed out that there was a passageway separating Kaufman and him from the area where Mrs. Peri was seated.
Peri claimed that she was "attacked in the most horrible way imaginable" by the two men. She accused them of "cursing" at her and saying to her, "It's too bad that Hitler didn't kill you and your entire family." She then trotted out the "Holocaust card," pointing out that some of her relatives were killed by the Nazis. Peri said the only thing she will apologize for was "losing control," and she is demanding that the rabbi issue "an apology for the terrible things I was subjected to and which caused my outburst."
Observers found that Peri's defense didn't hold water. "It was an early flight, and we can imagine most people on it did not get enough sleep the night before," Rabbi Yaakov Menken, director of the Coalition for Jewish Values, told Ami. "She could have said that, apologized profusely, gone for sensitivity training, perhaps including a Shabbat dinner or two at her local Chabad, and that would have been the end of it."
"Her attitude and demeanor are not those of a person who has been hurt or insulted, but someone filled with derision," Rabbi Menken continued. "And when was the last time you heard of a Chabad rabbi calling people names in the middle of doing outreach? What does she take us for? Having gratuitously insulted and shamed them at the airport, she's now insulting her victims once again—insulting our intelligence at the same time."
The Coalition for Jewish Values, which represents more than 1,000 Orthodox rabbis, has offered an interesting suggestion. Left-wing advocacy groups typically respond to incidents of cultural insensitivity by demanding that the culprits undergo sensitivity training. Why should this episode be any different? The coalition's vice president, Rabbi Steven Pruzansky, has called on the University of Maryland and American University to require Mrs. Peri to undergo "diversity and tolerance training before she returns to the classroom. They must examine her teaching assignments to ensure an environment of mutual respect for students in the fall."
Rabbi Herzl, who is the menahel at the Chabad School in the Jerusalem neighborhood of Pisgat Ze'ev, offered the most thoughtful comment on the whole unpleasant episode. In an interview on Israel's Channel 20 television program HaYom HaZeh, he recounted how he arrived at the airport early that morning in order to "have the merit of assisting Jews in the mitzvah of tefillin." When Gad Kaufman walked by, "he responded with happiness to our offer to help him fulfill the mitzvah."
The interviewer, Amir Avni, seemed surprised that Rabbi Herzl refrained from responding when Peri began taunting him. He answered Avni: "The Rebbe taught us that in our work, we should always focus on trying to bring the light of holiness into this world and not be obstructed by the darkness."
Ami Magazine does not publish most of its weekly content on the Internet. We offer this article here both to publish the coverage and to encourage interested parties to consider a subscription.