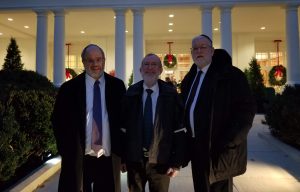 The highlight of last month, of course, was our invitation to the annual Hannukah Reception at the White House; the photo at right (of CJV Vice President Rabbi Yoel Schonfeld, Managing Director Rabbi Yaakov Menken and President Rabbi Pesach Lerner) was taken as we were leaving, and more photos from the event are included below. The reception included the opportunity to meet government officials and other Jewish leaders (see the photos), candle-lighting by a Jewish military chaplain, and kosher refreshments (not just latkes, but a spread that included lamp chops and sushi). What made that event truly special was, according to news reports, something of a last-minute addition (which is understood to be not out of character for this White House) — NYC Councilman Dov Hikind brought eight Holocaust survivors to the event, and President Trump welcomed each of them individually. When he discussed his accomplishments for the year, and the opening of the new embassy in Jerusalem, he went off script, turned to the survivors, and said that he had done it for them. That was a pretty startling statement. What is the difference between partisanship, dysfunctional alliance ("strange bedfellows"), and ideology? It should be very simple, but it seems to elicit confusion — at least from partisans opposed to our ideology, that is.
This month we had the opportunity to clarify where we stand, with one simple statement: we support Ilhan Omar's choice of head covering. Omar has made headlines, even before taking office, as she has moved to change an antiquated rule prohibiting head coverings in the House chamber. A partisan chooses whether to support or oppose a particular policy based upon the one proposing it. Strange bedfellows are on the "same" side of an issue only up until the day that the position they both oppose has been discarded — at that point, they differ on which policy should be implemented in its place. Were we partisans, we could not support a policy proposed by Omar, given our condemnation of her statements about Israel as clearly crossing the line into anti-Semitism. Were we "strange bedfellows," we would differ on what policy should be enacted in its place. Neither of these is true, so despite a reporter finding it odd that Orthodox Jews would support her on this issue, it is merely testament to the fact that we pursue an ideology, not a political party.
Oh, and for the record, there is a clear bias behind Congresswoman Rashida Tlaib's depiction of the garment she wore yesterday as a "Palestinian thobe" and her claim to be making a statement about her "Palestinian culture." A thobe is a common garment in the Arab world, so this is similar to an American in Africa claiming to wear an "American" business suit. [We may prefer certain cuts and colors in the United States, but we would not portray a garment worn around the world as somehow unique to the United States.] More accurately, she is wearing an Arab thobe with colors commonly chosen by families that settled in the Jewish homeland — and indicating that there is nothing unique about a Palestinian Arab if one takes Israel out of the picture.
But this was only one example of the CJV becoming a preferred resource for comment — we were also asked to respond when CAIR's Los Angeles director compared Israel to Iran. Rabbi Pesach Lerner also was mentioned extensively in a profile on Jonathan Pollard, punished disproportionally for spying on behalf of Israel; Rabbi Lerner was described as Pollard's "biggest public champion — other than Mrs. Pollard." Yet, although there were several meetings and other work behind the scenes, all of the above describes a quiet month for the CJV, both due to the holiday season and the natural ebb and flow of news items. Rabbi Fischer was able to keep up the extraordinary pace of his op-eds (and continues to deserve his own section, below), while several others of us had the opportunity to pen more frequent op-eds of our own. 
Press Release:
Rabbis Commend Israel's Chief Rabbinate for Conversion Court List, Nov. 29
Letters and Statements:
75 Group to Pitzer College President Oliver re: Faculty Vote to Suspend Study Abroad in Israel, Nov. 29
100+ Organizations Call on 250 University Presidents to Endorse Statement Condemning Academic BDS, Dec. 4
Thank You from 101 Organizations to All 10 UC Chancellors, Dec. 13
529 Expansion for Home School, Apprenticeship and Expenses Coalition Letter, Dec. 20
Rabbi Fischer's Op-Eds:
Praise to the Chief Rabbinate for non-recognition of sham 'Conversion', Nov. 30 The above was published in Israel National News, while the rest are found in American Spectator.
Finding Words to Express a Lack of Feelings on the Passing of President George H.W. Bush, Dec. 4
America's Most Vile Bigot, Dec. 5
Why Climate Change and Diversity Are So Urgent, Dec. 6
A Just-So Story: How This Brooklyn Rabbi Got Into Country Music, Dec. 7 Hush Money and Impeachment, Dec. 10
My Draft for Trump's Speech Pardoning All But One of Mueller's Victims, Dec. 12
The Corrupt Vote Harvest in Orange County, Dec. 15
Why Michael Cohen Is Particularly Detestable and Despicable, Dec. 17
Oh, Big Deal! So Close Down the Government, Dec. 19
Don't Call it a 'Shutdown' — Call it a Presidential Filibuster!, Dec. 21
Understanding the Roots of Tamika Mallory's Obsessive Jew-Hatred, Dec. 22
Let the Government Shutdown — the Trump Filibuster — Last a Full Year or More, Dec. 24
Mad Dog Disease, Dec. 25
Random Observations and Memories As 2018 Wraps Up, Dec. 29
The American Way: Looking Forward to a Year of War Games, Jan. 2
Everyone Else's Op-Eds:
No, Chanukah Does Not Celebrate Pluralism! Rabbi Avrohom Gordimer in Times of Israel, Dec. 13
Abolish the Rabbinate? Rabbi Steven Pruzansky in Israel National News, Dec. 14
Should Leah Forster Be Allowed To Perform in a Kosher Restaurant? Rabbi Avrohom Gordimer in the Jewish Press, Dec. 20
Rabbi Cardozo: Your Views Would Destroy Judaism Rabbi Avrohom Gordimer in Times of Israel, Dec. 24
Where Have You Gone, Rashi HaKadosh? Rabbi Yoel Schonfeld in Queens Jewish Link, Dec. 26
Yaffed And The War On Jewish Education Rabbi Yaakov Menken and Jeff Ballabon in the Jewish Press, Dec. 27
Giving Our Children the Attention They Need and Deserve Rabbi Avrohom Gordimer in Cross-Currents, Jan. 1 All in all, 2018 was pretty incredible — and we're looking forward to big things in 2019!